My Next Bike
Frameset [match]
IRO did a run of frames for readers of a popular fashion website, built with a series of tubes they don't normally use, with no decals, in limited edition colors, and at a special price. I think Andrew who told me about the deal. Not being willing to commit myself to maintaining a matching fleet for the rest of my life, I passed on "English racing green" and went with "3Rensho blue" (they also offered flat black, but come on).
I'm building it up on the cheap with new and lightly-used components, most of which I've already obtained. I should be able to build the wheels in a couple three weeks (can't buy spokes until I get the rims and can measure them) and be riding it by September, I'd say, at the latest. It's going to be fixed gear, but I have a few tricks up my sleeve to keep me from looking like every other jackass in Brooklyn. I will still be a jackass on the inside, but at least my bike will look somewhat different.
Wheel talk
It takes brass nipples to build wheel estate.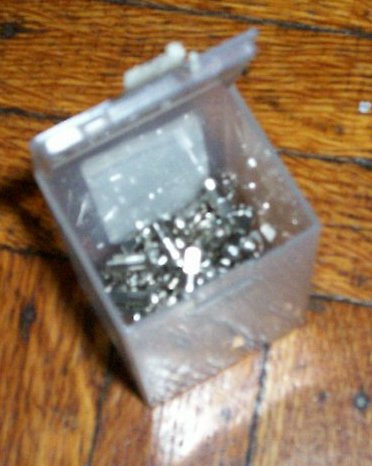 It's Friday, the 27th of July, and I've just laced up my wheels today after work. Good, old-fashioned, semi-tangent lacing, cross three. 32 spokes up front, 36 in the rear. Just simple, honest wheels, nothing fancy. I'll tension and true them over the weekend, I imagine.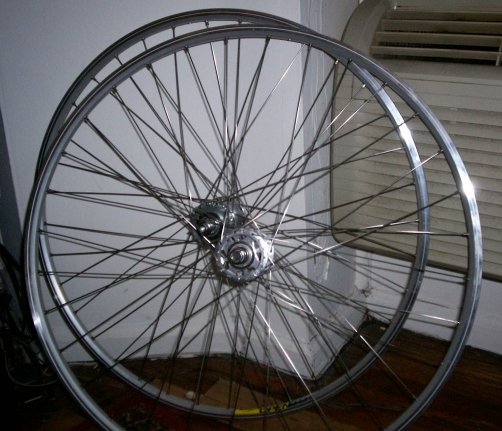 As of the 1st of August, the wheels are all trued up and I've put things together a bit. I went with the B-17 saddle, just like on my current bike, but in the tan color. Instead of toe clips, I got "Power Grips," which I guess are under patent so you don't get a choice about the horrible screen-printed logo. I was able to remove the strap from the mounting hardware entirely and switch the left and right ones so the logo is hidden on the inside. I still need to space the rear wheel and tighten everything up before I put the chain on, and of course I need a stem before I can hook up the front brake and mount the handlebars.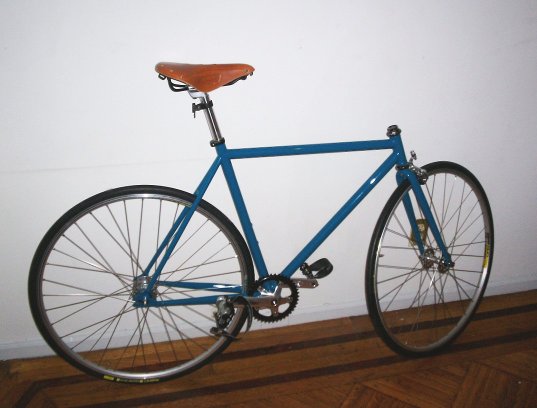 Yesterday, August 4, Andrew got tired of waiting for my stem to arrive and gave me one that he had in the same size, so I could finally put everything together. I still have a chain guard that I want to put on, but I don't have mounting hardware for it yet, and since the bike is now rideable I'll call it done. Note the bell mounted in the end of the right handlebar.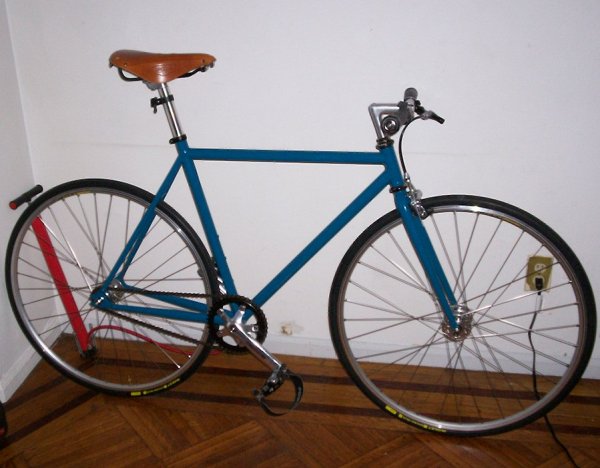 I rode it over to a friend's place last night, and got a flat already! I was right by my brother's house, so he went and grabbed a pump and patch kit so I could fix it up, but still! It was from glass too. Good thing I shelled out for the damn tires with the kevlar belt, right. Jeesh.
Basket case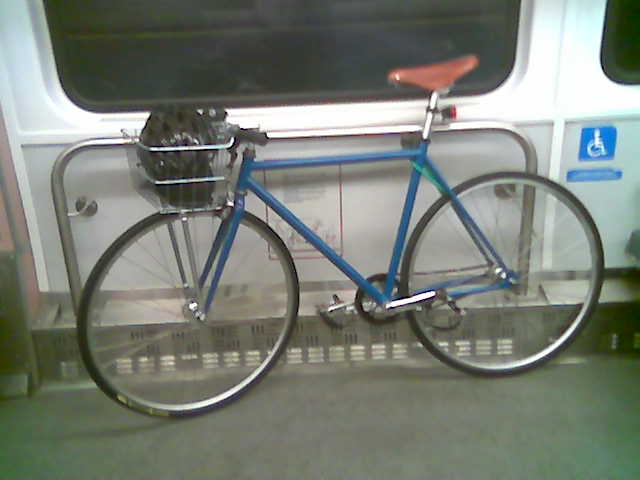 I have always been envious of Peter's basket: if I don't have my trunk bag with me when I'm riding my Raleigh, then it's awfully tough to secure, say, a six-pack of beer to my rear rack using bungees. So when it came time to figure out a hauling capacity strategy for the new whip, I decided to go with a front basket. It's not quite secured adequately yet—the handlebar clamps want to go around a smaller diameter bar, so until I pick up some longer bolts it's just wired in place—so it moves around enough to interfere with my wheel if I put much of a load in there, but it's sturdy enough for my lock and some tools or a couple library books.
I took the picture just after securing my bike on the NJ Transit train on my way to the office. It's from my phone, so the quality's even worse than usual.
After trying to mount the rack more securely, I gave up: the longer screws allowed the mounting brackets to go around the thin part of the bars, but the brackets were mounted close enough to each other on the basket that they'd have to be able to go around the clamp diameter instead, and it just wasn't happening. So I've moved the basket to my Raleigh for now. I may try to drill some more holes and mount it that way, or I may just try to find a different basket that will fit unmodified (so far I've found one, but it doesn't come in chrome).