My Bike
The Find
I bought this bike from some people in the building next door, who were selling it at a stoop sale for $5 during the 2006 Atlantic Antic street fair that happens in my neighborhood at the end of each summer.
It had clearly been sitting in a closet for some years, and the seat was well trashed, but other than that it was in pretty great shape. It's a 1966 Raleigh Sports 3-speed, a real reliable workhorse of a vehicle.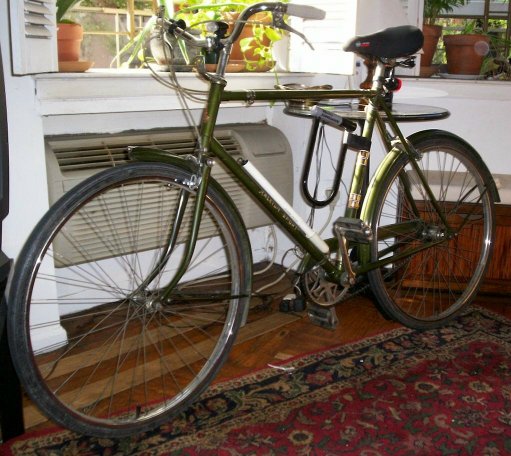 I replaced the seat to make it ridable, and added a bell and front and rear lights to make it street legal for day and night driving in New York. New brake pads were in order, and I got some oil to lube up the hubs. All told it was about $90 of parts to get it on the road safe and legal.
The seat was a goner, but I thought it looked cool so I hung it on the wall. It has a sort of industrial cow skull look to it I think.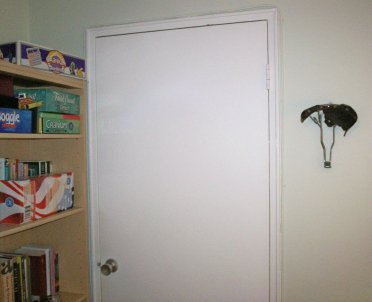 If I come across some rusted and busted old cowhorn handlebars, I'll stick them to the seat and make a real "steer" skull. Ha ha!
Also, I just discovered that I am not the first to have the saddle/handlebar cow skull idea...maybe my subconscious was acting on long-forgotten art history lessons, or maybe great minds just think alike, but Picasso's Bull's Head anticipated my unfinished work by 63 years.
A stock Raleigh 3-speed, driven well, can smoke a lot of other vehicles out there. But if you want to race with the big boys, putting your pink slip and reputation on the line, then you need to get under the hood and make a few "adjustments," or "tweaks" as I like to say.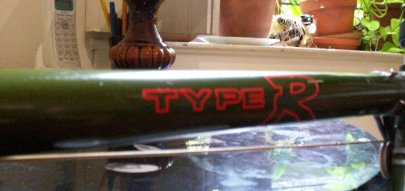 The Type R hub was only featured in a small number of bikes built for the Japanese market. If you can find one used, the modification necessary to install it is not difficult, and those extra horses can really make the difference between a lose and a win when it comes down to the wire.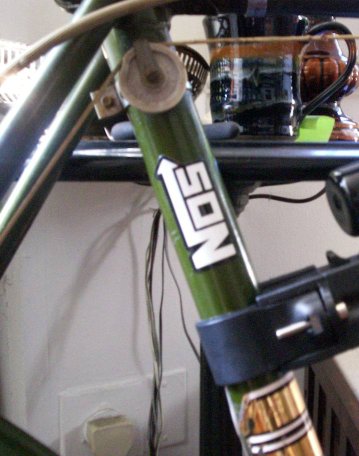 Some people balk at putting NOS on a street bike. The frame isn't designed to handle the stress put on it by a nitro shot. If you're not very careful about calibration and mounting, it can shake the bike right apart.
Raw speed isn't everything: hauling capacity is also important, if only to hold your spare nitrous on the way to the street race. To that end I've installed a rear rack. The 26" model didn't clear my fender, but the 27"/700c one worked fine and came with a good assortment of installation hardware. It feels very sturdy.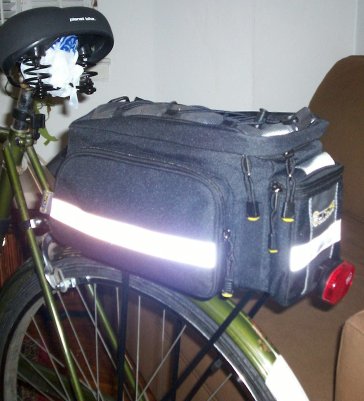 You can't swang properly without poppin' trunk, so I also got this nice little trunk bag. Four separate pockets with enough room for rain gear, a few tools, and a small sidearm. It velcros on and off quickly, and has a handle for hand carrying when you get to your destination, plus D-rings and a shoulder strap if you have a heavier load. The reflective tape ruins this photo, but that and the rear light loop keep it safe at night. There's more velcro straps on the side if you want to hang stuff off for some like ghetto saddle bags. Very cool.
For Christmas, my sister got me these awesome black rubber grips I wanted. They're a lot better cushioned than the "bullet" grips that came on the bike, and feel really nice to ride with. I think the black looks cooler too.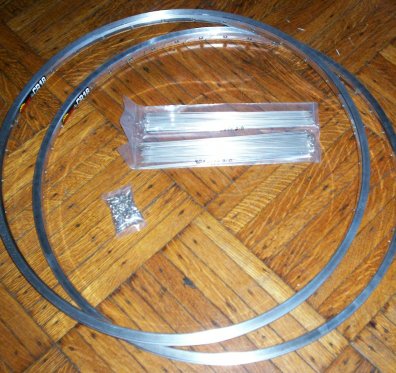 A little while ago I ordered a couple of these rims, which are the only alloy rims I could find in the 26" x 1 3/8" size. I wanted better stopping performance in wet conditions than I was getting with the steel rims that were on the bike originally. I found a person on the internet who had done a similar upgrade, but he went with 700c wheels, meaning he had to lose his fenders (not to mention his front fork). I love the classic look of the fenders, so that wasn't an option. Rims in hand, I used a Java spoke length calculator to figure out what to order from ICYCLES, and they arrived in a couple days.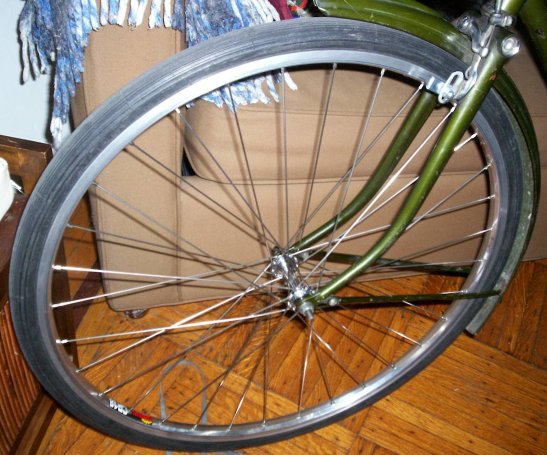 It was freezing out last weekend and I had no other plans, so I did the front wheel Saturday, following Sheldon Brown's instructions and consulting other online guides as needed. I took the opportunity to overhaul the front hub entirely, not realizing until I was putting it back together that you can take a hub apart even when it's built into a wheel. It was pretty filthy though, and definitely seemed happier after an oil change, so I'm glad I did it. The new rim was noticeably lighter than the old one.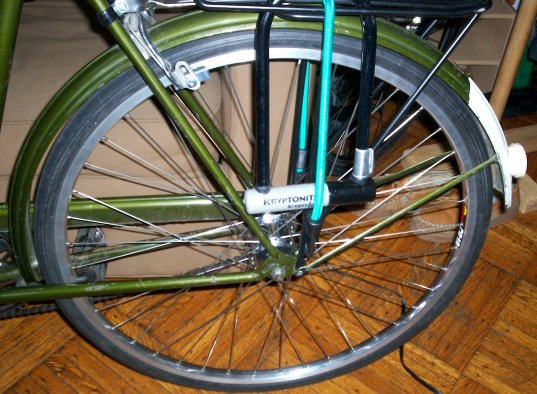 Sunday I tackled the rear wheel, and while I did clean the sprocket (which needs to come off to replace the spokes anyway) and some of the other hardware, I didn't crack into the hub shell. It's supposedly not hard to overhaul a 3-speed hub, but everyone seems to agree that they hardly ever need it, and they say it's easier when it's built up in a wheel. I had some trouble getting the tire and circlip back on the rear wheel, but my local bike shop helped me out. The guy there did have to use a tool for the tire, but he somehow got the circlip on without even a screwdriver.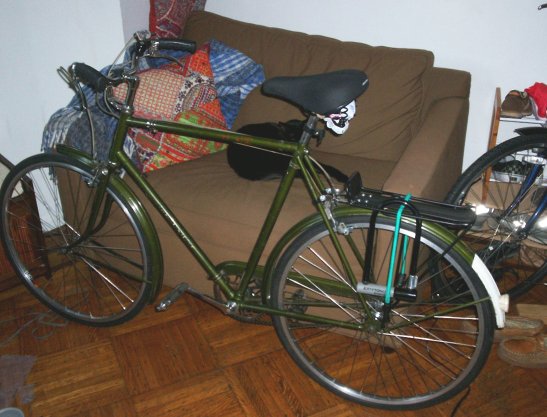 Anyway, both new wheels are on now. I had to tighten the brakes up because the new rims are significantly narrower than the old ones. They'd also been worn into the rim profile of the old rims, but that should sort itself out through wear. No new tires, because I like my old ones. Damn shiny, if I do say.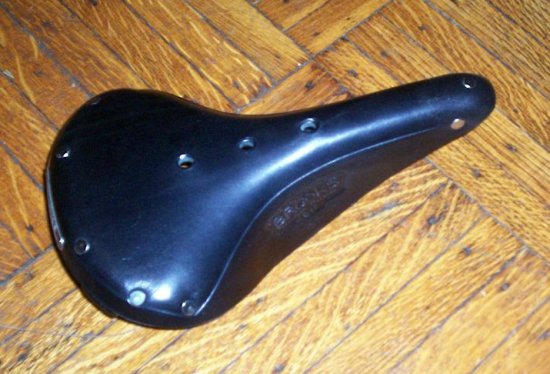 Partially in anticipation of some longer rides, and partially just because I can be materialistic, I ordered a sweet Brooks leather saddle.
My plan was going to be to put 200 miles on it in the first week, breaking it in. This turned out to be a bit more than was feasible. Even had the weather been consistently good for that week, I just didn't have the time or energy to make it happen. In the end, it took me fifteen days to reach the 200 mile mark. The seat felt great after the first 85 or so, however.
Here I'll keep track of how many round-trip subway and bus (and cab!) fares I've avoided since starting to bike! How long before it pays for itself?
Date
Destination
Saved
9/20/06
Tribeca for dinner
$4
9/23/06
LES to hang out
$4
9/25/06
East Village for the Channel 102 screening
$4
9/28/06
Park Slope for a New Democratic Majority meeting and then Midtown to meet a friend
$6
9/29/06
Chelsea and then the LES to hang out
$4
9/30/06
West Village to learn talking points for promoting paper ballots
$4
9/30/06
SOHO and East Village to hang out with friends
$4
10/05/06
Williamsburg to see this month's Variety SHAC
$4
10/07/06
LIC to go to a party
$4
10/09/06
East Village to see Gabe and Jenny's show
$4
10/10/06
Williamsburg for an Islands show
$4
10/13/06
East Village to meet friends and hang out
$4
10/16/06
East Village for a glass of wine
$4
10/18/06
LES, Chelsea, and East Village for shopping and dinner
$4
10/19/06
Chelsea to see L-D Section II and Sahra Motalebi
$4
10/22/06
Park Slope for Eugene Mirman's fortnightly show at Union Hall
$2
10/30/06
LIC to a friend's for dinner
$4
11/03/06
Williamsburg for a party
$4
11/06/06
East Village for another Gabe and Jenny show
$4
11/10/06
East Village for a friend's birthday party
$4
11/13/06
East Village to see Joanna Newsom
$4
11/14/06
East Village to buy some shoes from 99X
$4
11/17/06
East Village for a drink and Bushwick for a birthday party
$6
11/18/06
Williamsburg for dinner
$4
Total:
$98
I did it! Just a few days shy of the two month mark, my bike has paid for itself in saved transportation costs! Even without a daily commute!
If you are a city dweller who uses public transportation and has a relatively normal social life, and you are wondering whether to invest in a bicycle, the answer is yes! Not only should you buy a bicycle, but you should buy six a year! Or one really nice one. I only wish I'd gotten a bike sooner...all this time telling myself I didn't have the money to spend on it just yet, when I could have bought a used bike right when I moved to the city and had a cool $2000 more in my pocket today!
Song